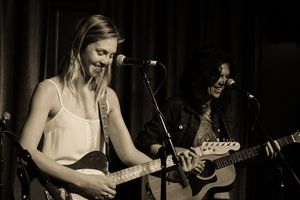 With ornery tuning keys and rattling fret boards, Roscoe and Etta are a pair of aged arch top guitars possessing wills of their own. Maia Sharp and Anna Schulze are two singer-songwriter-producers who play these instruments and claim title to their names as Roscoe & Etta, on their eponymous debut.   
Anna and Maia, who met in Los Angeles at the fabled Hotel Café, knew that they were on to something from their first songwriting session, but they had to keep writing to figure out what. Both artists maintain vibrant careers as artists and songwriters. Anna, originally from Minnesota, has released five well-regarded solo projects, placed songs in the Oscar-winning documentary Icarus and the MTV series Awkward, and been featured in the digital magazine This is Melo. She learned her studio craft under the auspices of producers Glen Ballard and Justin Meldal-Johnsen. 
Maia Sharp, acknowledged as "a songwriter's songwriter"(The Chicago Tribune) has writing credits for a roster of platinum artists that includes The Dixie Chicks, Bonnie Raitt, Cher, Lisa Loeb and Trisha Yearwood, and has produced projects with Edwin McCain and Art Garfunkel, with whom she collaborated as a featured artist. In addition, she tours extensively behind her seven solo releases, and performs on bills with artists like Bonnie Raitt, Patty Griffin and Keb Mo. 
Exploring their songwriting chemistry, their disparate influences, and acknowledging their double-digit age difference: the concept of recording a full collection of songs as an artist duo dubbed Roscoe & Etta came into focus. 
The harmonies of Roscoe & Etta pair Anna's bright tonalities against Maia's darker alto. "When both of us are singing, it feels like each voice is the melody," says Anna. Adds Maia, "If you find the right person to sing with, you're working half as hard and getting twice the power. It's a resonance that lifts you both up." 
Before the recordings commenced, it was imperative that the songs could work organically, with only two guitars and two voices. Then the experimentation began with the production. Both of artists maintain project studios where they could work together, or separately, building textured tracks over a foundation of pulsating rhythms and dirty acoustic tones. Laughs Anna, "Maia would send me very pure audio files and I would totally fuck them up." 
The opener, "Play On," the first song the duo wrote, reveals the framework for the serendipitous sonic chemistry. It was initiated by Anna's beat box loop, with Maia overlaying a grainy acoustic guitar. The two of them played four handed on a tiny three-octave idiosyncratic keyboard that they note is "…impossible to control." 
 "Broken Headlights" unites the two singer-songwriter-producers' contrasting voices in a striking harmonic blend. Above the electronic pulse of an understated track, the duo paints moments of luminous clarity, framing unspoken spaces between lovers in the watercolor imagery of the City of the Angels on a night when the falling rain both dissolves the details and miraculously clears the air. Written by Maia and Joey Ryan of the Milk Carton Kids, it's the only outside co-write, but it served as a telling production experience for Anna and Maia that helped uncover the organic: inorganic ratio of Roscoe & Etta. 
 "Chocolate Sauce," inspired by Anna's grandmother's infamous family recipe, raises the temperature with a metaphor of someone so delectable that they don't need any dressing. "423," which takes title from the number of a motel room, illuminates a scene of ongoing clandestine coupling. "Not Your Friend," they note, started in an "resigned but irreverent" place. "We managed to keep it that way," says Maia. "It even rebels against the idea of having a chorus." 
"We Don't Have To Talk About It," was completed by the two on a joint writing trip to Nashville. That night, they played it on stage at the legendary Bluebird Café, with their round mate Gabe Dixon scrolling through Anna's phone for lyrics. The song suite comes full cycle with "Roscoe & Etta," a gentle instrumental featuring Anna and Maia playing the namesake guitars, coaxing new stories from old wood. 
  Across the span of songs, the language of Roscoe & Etta is knowingly descriptive and slyly conversational. Anna and Maia know how to place the proverbial furniture in the room with a lyric; when to focus on fine emotional intricacies or to pull back for a wide-angle view. Not limited to structure, both know the rules of songwriting and gleefully break them. At the heart of Roscoe & Etta, Anna explains, "Is a place of intuition and authenticity. We showed up with no expectations and have been surprised by the process and ourselves." Concludes Maia, "The inspiration in the room is at a whole other level. Hopefully that will come through for the listener."
- Dan Kimpel, Music Media
"Maia is making some of the most innovative and soulful music around with songs that are head and shoulders above the rest. She has become one of my favorite artists…"
- Bonnie Raitt
"Anna Schulze is a refreshing update on the singer/songwriter.  She plays electric guitar, sings from the heart, and brings energy and passion to the stage.  She simmers and shimmers somewhere between power pop and emo rock, and her melodies evoke the great American summer…"
- Glen Ballard